New academic research shows more support for real-time content over static formats. Just yesterday, Reuters Institute for the Study of Journalism published its 2013 Digital News Report, where Neil Thurman composed a chapter on liveblogging, the format news organizations are increasingly choosing to tell stories and engage their audiences.
His previous research at the City University London showed that live blogs gained more visitors and pageviews than regular online articles on the same topics.
His latest findings come from the Reuters Institute surveys, which support many of the conclusions he's reached in previous research. Below is a summary of new findings related to real-time coverage:
Top countries consuming live blogs (percentages correspond to proportion of UK news consumers that followed a live blog the previous week): Japan (35%), France (19%), Spain (16%), Italy (16%), Brazil (15%), US (11%), UK (11%).
Readers perceive content from live coverage to be more balanced and neutral; fewer readers are concerned about lack of accuracy in live blogs than articles.
62% of survey takers agreed that this was the best format to consume news at work.
79% of mobile news consumers in the UK (77% in the US) access quick news updates during the day on their mobile device.
According to the Reuters survey, breaking news events are the most followed type of  live blogged news content. (See graphic, below.)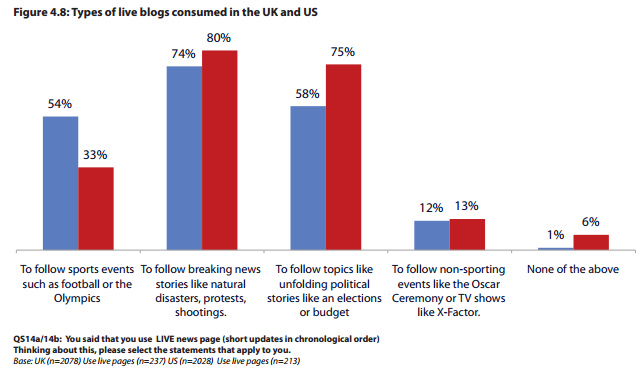 There is a pattern forming when you conduct a literature review of recent studies on live blogging and live event coverage: the format is preferred to static content. The devices through which audiences consume news and other content are changing, their attention spans are changing, and their consumption patterns of information are shifting — real-time content drives engagement in light of all these changes.
---