Content marketing is a double-edged sword. A perfectly calibrated content marketing strategy can take your brand, product, or publicity campaign to new heights — but coming up with such a strategy isn't easy. With so many products, platforms, and solutions available, it can be intimidating just to get started. Research and advisory firm Altimeter Group released a report this month to help take the guesswork out of content marketing. The Content Marketing Software Landscape: Marketer Needs & Vendor Solutions was created by studying 100+ content marketing software vendors, consulting with dozens of marketing experts, and interviewing 10 experts from brands, agencies, and venture capital firms.

While researching the report, Altimeter Group's analysts realized that marketers' needs far exceeded their capabilities. And with 70% of these same marketers lacking a consistent or integrated content strategy, the need to adopt a well-measured approach has never been greater.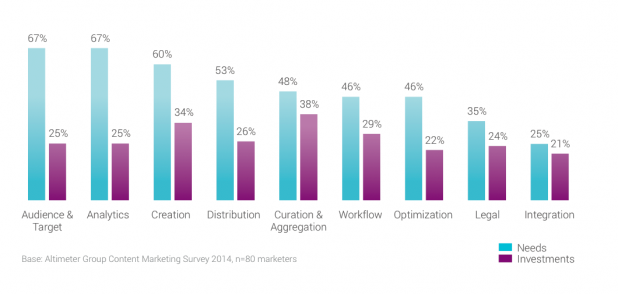 Altimeter identified three key trends within the content marketing landscape:
Many solutions exist,
The content vendor landscape is sharply bifurcated, and
Content marketing evolution is driving consolidation.
While the future of content marketing may rest in a limited number of key solutions, there is currently no single solution to solve all of your content marketing woes, according to the report. To that end, Altimeter suggests a three-tiered framework for prospective marketers to identify the best solution to fit their needs.

Step 1: Feed the Beast.
This is all about creating appropriate content at the speed of business and learning how to create content at scale.
Step 2: Refine.
During this step, marketers must identify, analyze, and optimize their content marketing efforts.
Step 3: Govern.
Codify and communicate a robust content marketing strategy.
How Visually Can Help
While the Altimeter Group calls out the lack of an integrated solution for brands' content marketing needs, the
Visually marketplace
arms marketers with all the tools they need to execute the three-step plan. We'll help you
"feed the beast"
by creating a visual project three times faster and 75% cheaper. Marketplace project managers and creative directors will help you
"refine"
your content marketing strategies by optimizing projects to fit goals and scope. And to
"govern"
, Visually's top-notch creatives can direct everything from a single piece of content to a multifaceted campaign across multiple mediums. For more content marketing expertise, check out the full report on Altimeter Group's
website
.
Jon Salm is an associate client analyst at Millward Brown Digital in New York City and a freelance data journalist in the Visual.ly marketplace. He has a bachelor's degree in English from Washington and Lee University. You can follow him on twitter @S4LM3R.
---