How Do You Balance Content, Search and Social?
The answer to this question is complicated. Successful marketers must find the sweet spot where all three entities overlap. As with many things in life, this requires finding the right balance.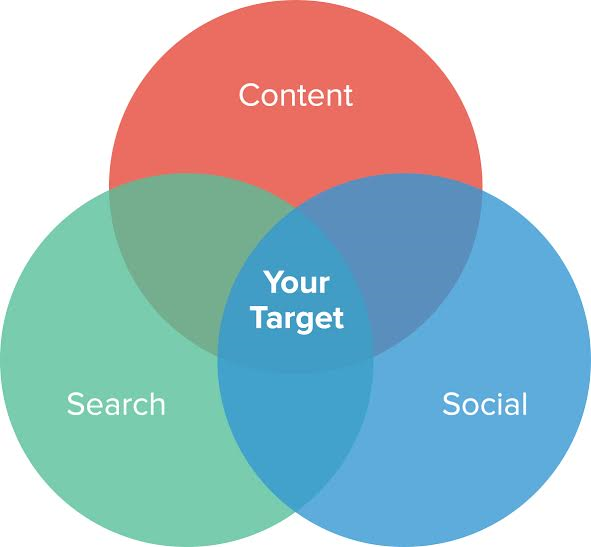 There is a very intimate relationship between content, search engine optimization (SEO), and social media. These three elements are critical for marketers to effectively grow their brands.
Sites that rely on organic search traffic must resonate with search engines to rank for targeted keywords searched by potential clients. Social media helps companies expand their reach when their content enters into conversations trending across multiple channels.
How do you organically grow your rankings AND engage with audiences on social media? The secret is to develop killer content!
Knowledge is Power
Think of that old cliché "knowledge is power." As you produce more high quality content, your brand establishes credibility as a reliable source of information. Web browsers will come to trust your site's authority in regards to specific search queries, which will inspire readers to actively choose your pages for new updates.
Differentiation is Key to Marketing
Develop a tone or style that is unique because creativity is particularly important for your search engine rankings.
Duplicate content can actually penalize your rankings, which will certainly affect organic search traffic.
, over two-thirds of organic desktop click-through rates occur on the first five sites that rank in SERPs.
When you offer fresh, unique content, you carve out a niche in the market. If the content is exceptionally thought provoking, readers will naturally want to share that content around social media to stimulate discussion. When this happens, you know you've got a winner!
This is one of two major ways you can use social to inform your content strategy. Rock Content's Chief Product Officer Divesh Sisodraker wrote an excellent piece that explains how marketers can integrate social media into their content strategies.
Create Something Readers Want To Share
Many people get their news online and are quick to share a breaking story with their friends or followers. People have access to an abundance of online content distribution channels to learn about ideas, opinions, and news, which means your content needs to stand out from the clutter.
Jim Yu, Founder and CEO of BrightEdge, encourages marketers to consider the distribution side of a content plan as much the curation side. In a very informative piece on Search Engine Land, Jim said content that attracts high volumes of traffic across multiple channels will be rewarded with improved search rankings – potentially acquiring even more traffic.
"Promoted content that draws fresh traffic through search and social – and is high in quality to reduce bounce rates – will naturally rise in SERPs."
Rinse, Wash, Repeat
After planning, creating and then distributing your content around the web, measure the performance of your piece. If your analytics tell you that rankings have improved and social engagement is on the rise, congratulations – you found the content marketing sweet spot!