Appinions is now Rock Content Insights
(And we have new features!)
As you know, Appinions was acquired by Rock Content in April. We're very excited to be welcoming the team and its products into the Scribble family of products that are changing the way marketers and publishers use content to drive results. To this effect, Appinions will be known going forward as Rock Content Insights. For Insights' current customers, while you will notice a change in the branding within the application, the core functionality of the platform will remain unchanged.
That said, we are excited to roll out new things alongside the new name. Today we're announcing a significant release to the Insights platform. We have spent a lot of time talking to clients and one of the recurring requests that we've gotten is that clients want to be able to better analyze our data, generate reports easily, and derive insights from the application.
This release is the foundation that enables these features. There are a few new features that clients can use today and a string of features to come based on this release.
Also included in this release are several important changes that will impact clients' existing workflows, including when topics are run and how topic scores are calculated.
THE NEW STUFF
Preview: Reporting
Understanding where you stand within your market and against your competitors and how this changes over time is an integral part of developing an effective content strategy. We've rolled out a preview of our new reporting functionality that will help you understand the impact you're having and what's driving change.
Reports will give you insight into:
Where do I stand:

Is Attention in my brand increasing?
What is my share of attention?

What is driving the change?

What events are driving changes in attention?
How effective are my executives?
What themes are earning attention?
What sources drive the most attention on my brand and for my competitors?
Am I using earned and owned influencers effectively?
Improved Topic Builder Tools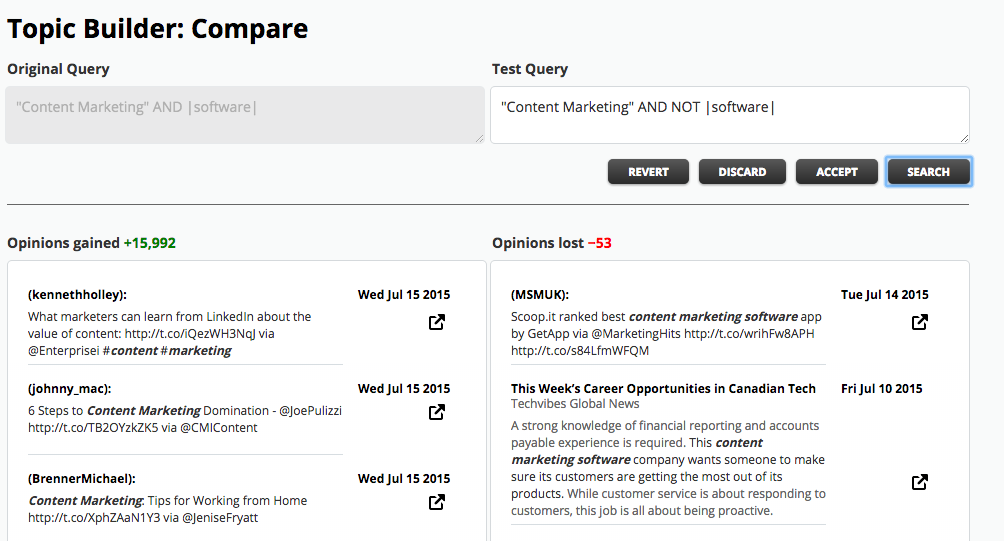 One of the most critical pieces of the Insights analysis is crafting a topic that encapsulates the right data. To this end, we've made it easier to create better queries before you submit your topic for analysis. Our Topic Builder tools now:
Highlight matching terms
Show what opinions are added/deleted when a query is changed
Bursting Themes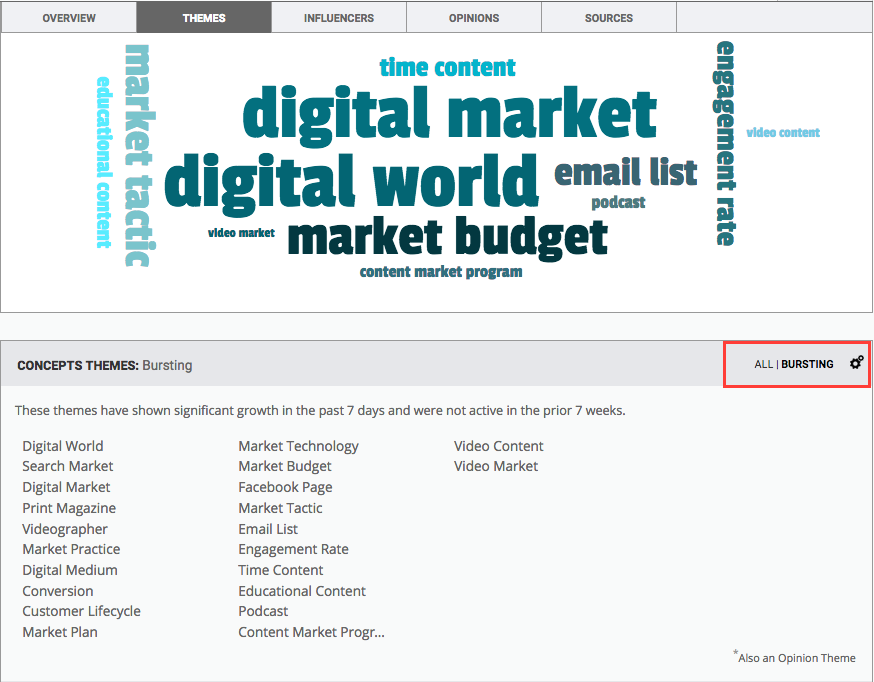 In addition to updating the theme counts, we now allow you to see which themes are bursting in popularity. This quick filter lets you know what is relevant right now and serves as a way to both keep a pulse on the market as well as an input to a content marketing strategy.
To get to the new data:
Load a topic
Click on the theme tab
Click on "bursting" at the top right corner of the theme list
(Note: Opinion level vs. document level themes have been moved to the gear icon)
Theme & Publisher Counts
Traditionally, when it comes to Themes and Publishers, we have shown the number of influencers who used a given theme or were cited on a given publication. However, this proved to be an imperfect measure. So we've changed up how we deliver these insights.
Today, Themes and Publishers will show you how many times that theme or publication appeared in the last 60 days . This gives you a much better idea of the popularity of the theme or publisher and is a much more intuitive number.
To get to the new data:
Load a topic
Click on the theme or publisher tab
The counts next to the words now reflect mention counts instead of influencer counts
Theme & Publisher Trends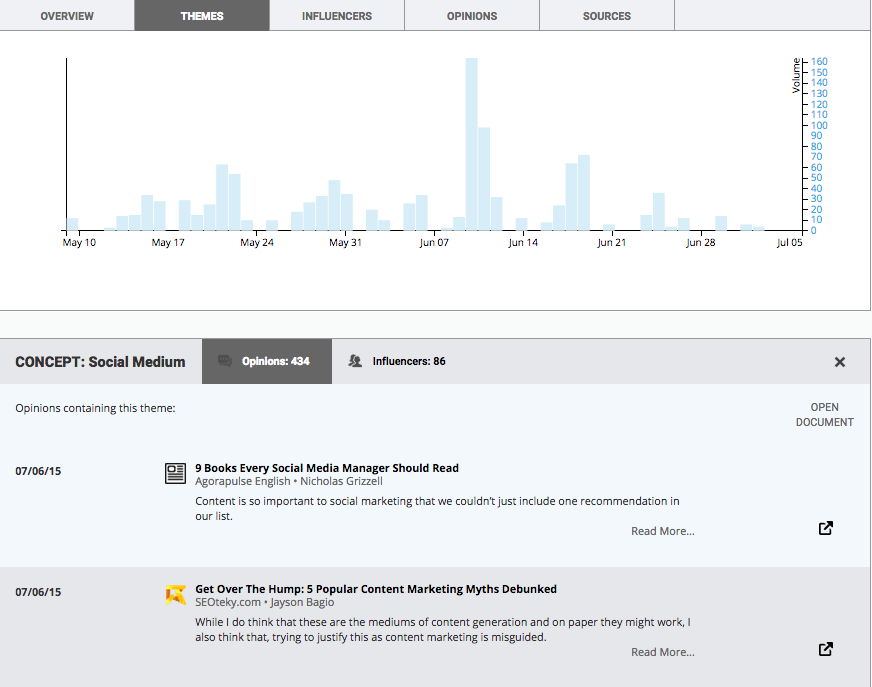 Now, if you dig into a theme, we visualize how often it appears over time. This means that you can look at the plot and quickly see if a theme you're considering is rising or falling in popularity, or whether it is a consistent performer over time.
To get to the new data:
Load a topic
Click on the theme tab
Click on a theme
The new histogram will appear where the word cloud was
Former influencers now shown in topics and Watch Lists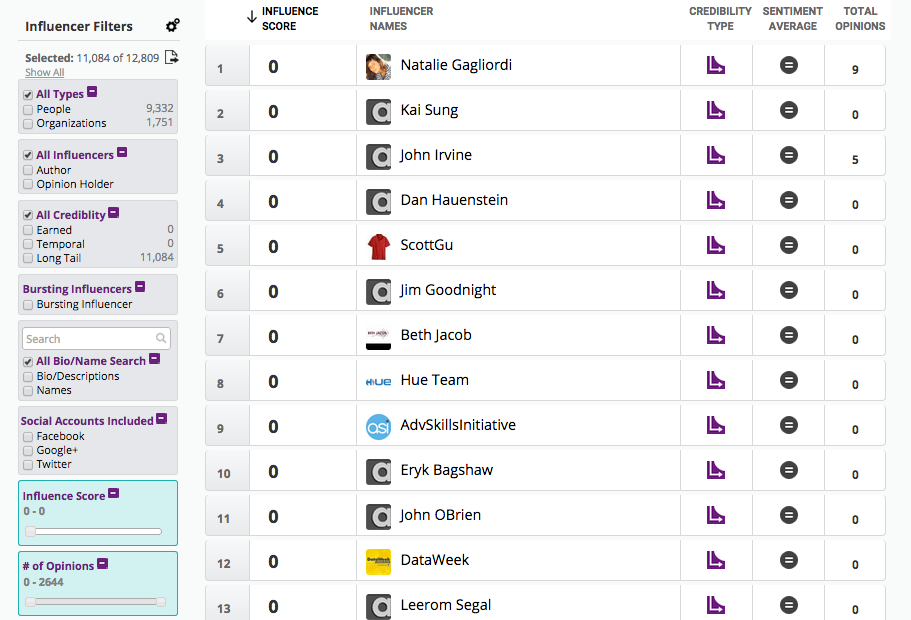 Lastly, we have made a change to they way we handle former influencers. We used to show only people who have a score today. If an influencer hadn't had an opinion in a while (i.e. their influence score was 0), they were removed from the list.
Now, if someone was in a topic but has not had an influential opinion recently, they will still show up in the influencer list but they will have a score of 0. This will allow you to find people who were influential but no longer. This is useful for finding executives who don't regularly express opinions or finding people with potential to become influential.
This change carries over to Watch Lists as well. These lists now include influencers who had a score when they were added but have a score of 0 for today.
To see influencers who were in your topic:
Load a topic
Filter to influencers who have a score of 0
WHAT IS CHANGING
New Topic Schedules
We are making a fundamental shift to how topics are processed. Topic analysis will no longer start every hour. To start, they will run twice per day with the intent of increasing this frequency. Topics will run at 8:30 a.m. and 8:30 p.m. EST daily, and a completed analysis can be expected a few hours after that.
This new analysis schedule applies to running new topics as well as existing topics; we no longer make a distinction between the two. This is a necessary change to support many of the reporting features in our development pipeline. It also means that when a topic appears, it will have all of our data products ready (as opposed to things like Most Influential Opinions that previously took an overnight run).
Change in Topic Score/Active Attention Index
We made a fundamental change to how the Active Attention Index (topic score) is calculated. The AAI is simply the total of all of the influencer scores for that day. Previously, we also included a sample of data from influencers with a score less than one. When we remove this sample of data, all influencer scores will remain the same but the topic score will drop.
The result is that all topics will drop by an average of 13%. Since all topics are adjusting by roughly the same percentage, this should not cause a large relative shift between topics on your brand or your competitors.
Again, influencer scores will remain unchanged.
Change in the way we process Twitter
Due to a recent change in Twitter's policy with data resellers, Rock Content Insight will be switching to a new data provider. The result is that we have to slightly change the method we use capture Tweets. We are moving to a sampling approach that should not impact the overall topic score. However, there may be more variance in any individual influencers' score if they are only active on Twitter (i.e. not News or Blog sources).
Any questions, comments or feedback on this update, please contact your customer success manager and let us know.