The Rock Content Guide To Visual Storytelling
When graphic designer Vahram Muratyan began publishing his colourful minimalistic images chronicling the differences between two of the world's most infamous cities, Paris and New York, he could not predict that in just a few months his blog would receive over 1.5 million page views and earn him a book deal with Penguin. Muratyan's stark and simple graphics use the iconography of each city to create a "juxtaposition that becomes a running commentary on transcontinental difference," writes Amy Thomas in the New York Times. Muratyan's visual dichotomies became so popular not only because of their clever commentary on the details, cliches, and contradictions that shape our perception of each city, but also because of their easily digestible format. These images are quickly understood, can be shared easily, and convey as much information as an entire essay through a single, simple image.
Get Noticed Amidst All The Chatter
In the digital age where Adblock is the norm and 571 new websites are created every minute it can be difficult to be heard amongst all the noise. As the number of blogs grow and our attention spans become shorter, visuals are becoming the most effective way to engage audiences and hold their attention.
"In today's fast-moving mobile-centric world, visuals are easy to understand, eminently shareable, and can be used to tell stories and evoke emotions that are much harder to do with words" writes Michelle Linn of the Content Marketing Institute.
As Muratyan demonstrated with his Paris Versus New York collection, engaging visuals are much more effective at grabbing an audience's attention than pop-up advertisements or lengthy advertorials.
"We've used data visualization to reveal hidden patterns about the world, employed animation in engaging kids with important issues, and let infographics distill human emotion. In fact, our very brains are wired for the visual over the textual by way of the pictorial superiority effect," observes Maria Popova.
So how can marketers utilize our brain's preference for pictures and harness the power of visual storytelling? Below we've outlined three ways to use visuals in your next marketing campaign. We've also compiled some examples of brands who are delivering some of the best visually-based content engagement to show you what works and, ideally, to inspire your next campaign.
1. Show Us Your Soul
Millennials, the digital natives of Gen Z, and the upcoming Generation Alpha already have built-in Adblock and can spot disingenuous content from a mile away. These demographics are all about trust and authenticity when making purchasing decisions. In this shifting advertising landscape brands have to humanize, show a little personality, and let consumers see their soul.
To reach these demographics you need to tell a story, and create opportunities for your audience to understand what you have to say. Visual content is a great way to show consumers who you are and what you stand for.
This means brands cannot simply rely on stock photography for their visual aids, advises the Content Marketing Institute. The impersonal nature of stock photos is immediately obvious to consumers and so synonymous with sterility that Vince Vaughn recently parodied the stock photo as a publicity stunt for his upcoming film, Unfinished Business. Vaughan teamed up with Getty Images to produce a set of stock photos featuring actors from the film, mocking their contrived nature.
Forming a relationship with your audience is similar to making new friends – you need common interests and anything that comes across as contrived or fake will deter your audience. According to the Nielsen Millennial Report, "24% of young Millennials and 26% of older Millennials will try a brand/product if they sponsor an event for a music artist they like." Using visual content to paint a picture and demonstrate how your brand aligns with a specific subculture, sport, or demographic will help your audience relate and build trust over time.
Vans – #LivingOffTheWall
So who's using unique visuals to craft a relationship with their audience? Vans' #LivingOffTheWall project is a documentary series profiling "boardriders, musicians, artists, and anyone for whom creativity matters." The short films are focused on people who exude originality and embrace DIY culture. The subjects of the documentary do not mention Vans' shoes at all, and instead focus on their craft and how these creatives started out in their respective industries. These short films allow Vans to highlight the people that inspire them, humanizing the brand and lending it some personality.
Red Bull House Media – The Art of Flight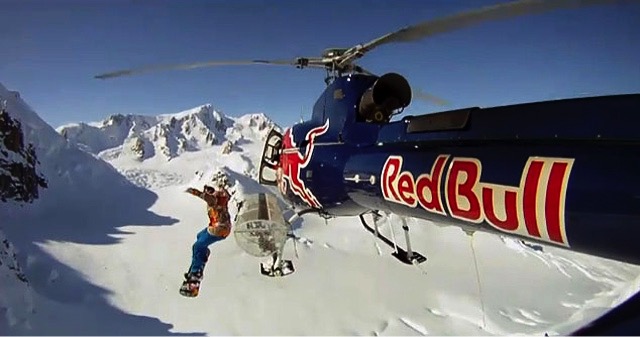 Similarly, Red Bull Media House is producing digital media and full-length feature films to showcase the people who inspire them and continue to push the boundaries of their sport. The Art of Flight follows pro snowboarder Travis Rice and his friends as they take on some of the most treacherous mountains in Canada, the United States, and Chile. The brand also launched Red Bull TV featuring content spanning topics like sports, music, and art. These productions focus on individuals testing the limits of their field and tell visually stunning stories that not only engage the audience but also illustrate what Red Bull stands for as a brand.
Waterwise – Every Last Drop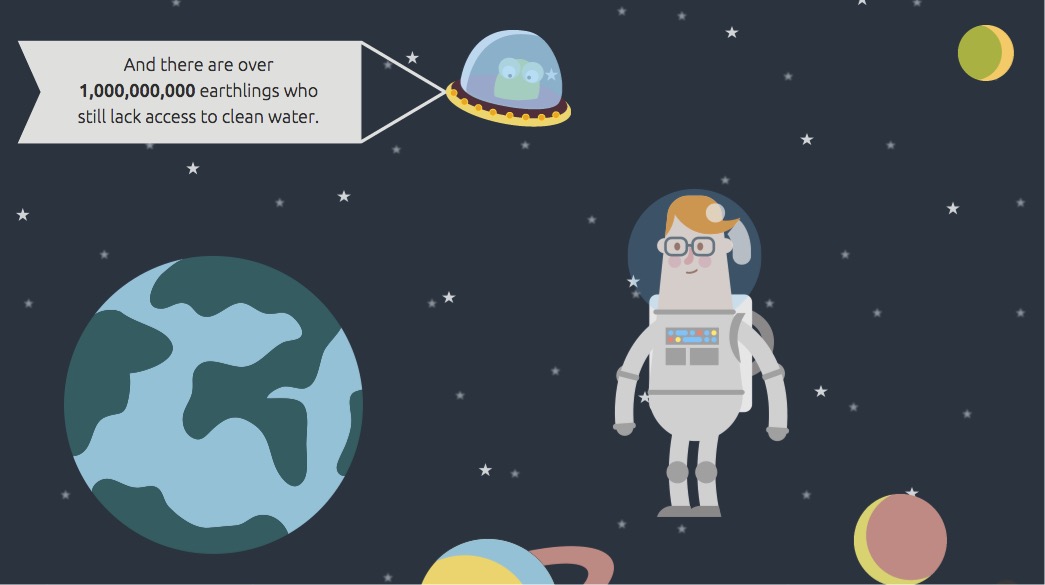 Companies can also use visual content to humanize an otherwise difficult or "unsexy" topic. Every Last Drop is a beautifully rendered parallax website supporting Waterwise's water conservation campaign. The website uses "trigger animation" that reveals new scenes and animation as the user scrolls through the page. The stunning visuals take the audience through an average day, providing facts and information on how much water we actually use on a daily basis. Who knew that it takes 20,000 litres to make just 1kg of cotton, or 130 litres to produce 1 cup of coffee? Since it launched in 2013, the website has received over 1 million unique visitors from around the world, gained 20,000 likes on Facebook, was Tweeted thousands of times, and won a host of web design and communications awards. It's popularity is a testament to visual content and how it can transform unpopular or uncomfortable topics into easily consumable content.
2. Put Your Audience in the Spotlight
Sometimes the best resource for compelling images is your own audience. Releasing some of the control over to your audience can be frightening, but it's also a great way to build trust and form a relationship with your consumers. Incorporating user-generated visuals via social channels like Facebook and Instagram allows the audience to become a participant rather than the recipient of endless broadcasting.
User-generated content is also a great way to make your audience feel involved. According to the Leaderswest Digital Marketing Journal 84% of millennials report that user generated content on company websites at least somewhat influences what they buy. Featuring user-generated visual content is a great way to stop marketing at your audience and start an organic conversation.
Instead of targeting your audience with advertisements, step back and allow your readers tell their own story. Tap into the creativity of your consumers, give them credit for their efforts, and make them want to share your content. To better facilitate this culture make sure all of your content is optimized for sharing and participation. Use hashtags, make sharing buttons available on all items, and regram or give a shoutout to the people who interact with your brand.
Finally, always assume your audience is intelligent – let them get creative and give them something to do besides scroll through content. You don't need to hold their hand, give them a clue and let them run with it.
Pabst Blue Ribbon – PBR Scavenger Hunt and Art Contest

Pabst Blue Ribbon embraces this ethos in their campaign with Vans Shoes. The PBR team hides a few pairs of shoes in select cities on specific days and releases a photo on Instagram and clues via Twitter that lead to a specific location where a pair of limited edition Vans are hidden. The first person to track down the shoes gets to keep them. Pabst also regularly hosts the PBR Art Contest, which encourages artists to re-work the PBR logo. "All forms of PBR art accepted…there are no boundaries," claims the website. PBR publishes their audience's work on their website, Instagram, and Facebook page, and even put the artwork on their cans! By making the consumer a co-designer, the brand forms a relationship with the audience while also demonstrating that they value creativity and originality.
DIG – San Diego Comic-Con Scavenger Hunt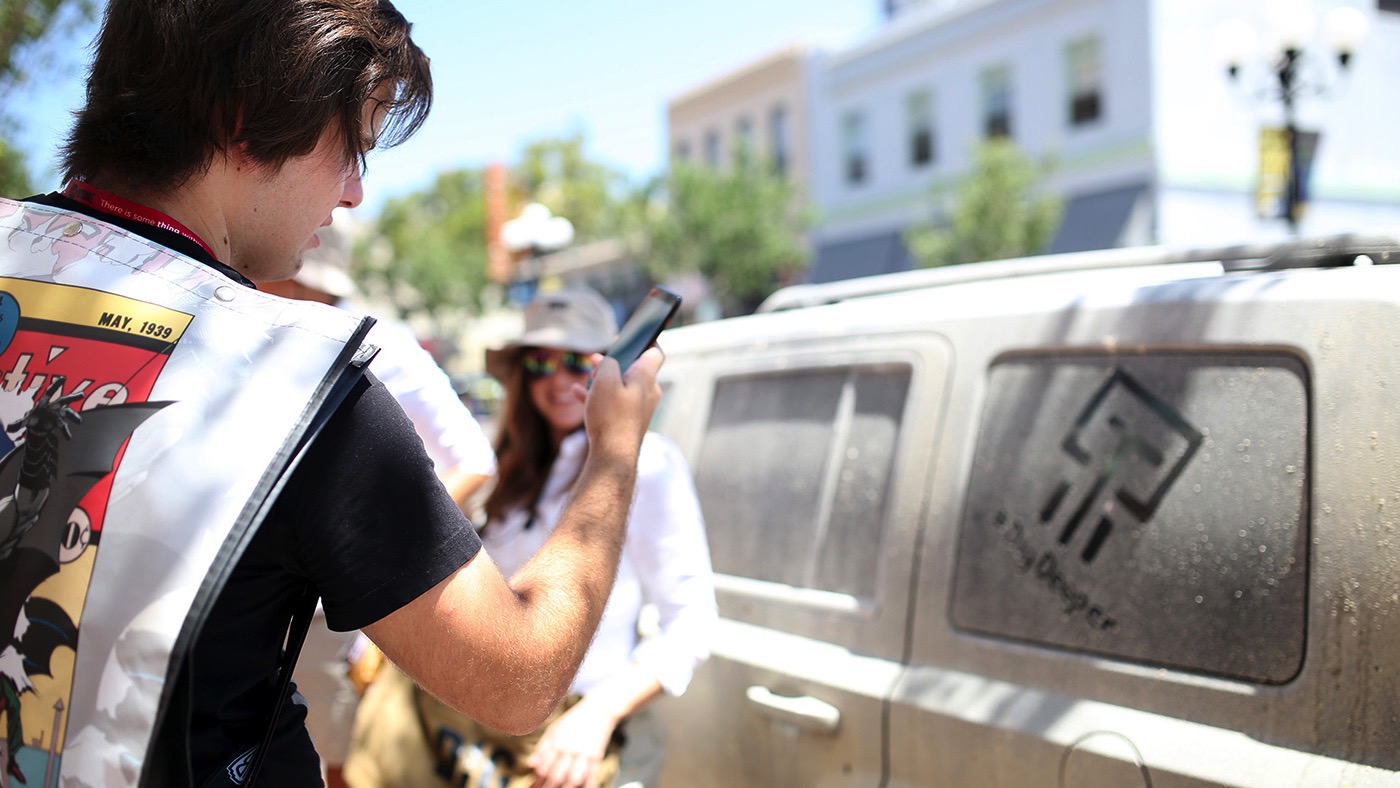 The television show DIG also hosted a scavenger hunt at San diego's Comic-Con. They asked the audience to follow DIGonUSA on Snapchat, find the secret DIG symbol hidden in the Gaslamp District, and snap a picture to DIG's handle. The winner would receive a private meet and greet session with the series creator Tim Kring. DIG used Snapchat's Story feature to spread details about the scavenger hunt and distribute clues to their followers. The two-day activation saw 12.2 unique views on the 60 second story and DIG received over 614 snaps from fans, causing Snapchat to crash after just 3 hours. The activation challenged the audience and got them engaged with the show.
GoPro – GoPro YouTube Channel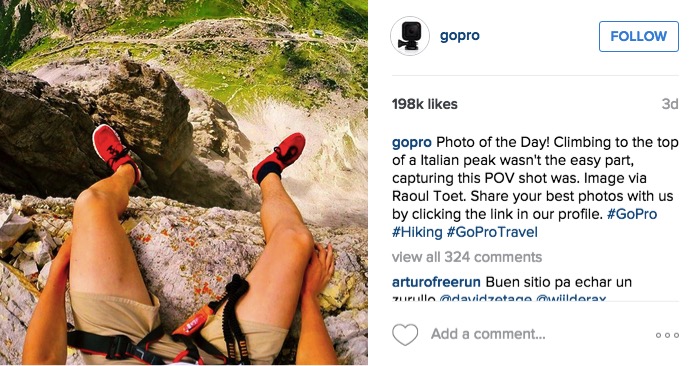 GoPro is also infamous for its user-generated content. The camera, whose popularity was built on its versatility and ability to capture new perspectives and adventures, frequently features user-generated content on its YouTube channel and Instagram. They're also great about giving shoutouts to the creators, developing a personal connection with the audience. Here the consumer is both encouraged to get creative and become the adventurer.
3. Become A Source of Information and Inspiration
Digital marketing expert Brian Solis believes that brands "have to stop acting like marketers. If you have to market that means that there is something wrong." Solis also encourages marketers to shift their focus towards creating experiences that "embrace" the audience and make them "walk away saying 'that was amazing.'" Visuals can be used to create stimulating storytelling experiences, (as seen in Red Bull Media House's snowboarding documentary). However, they can also be used to inspire your audience to think or interact with your product in an entirely new way.
Millennials are often characterized by their willingness to embrace DIY culture. Giving the audience useful content is an opportunity to show them creative ways to use your product and to stimulate their own creative side. Visual content also tells the audience that you're listening. Creating useful visual content "embraces" the audience's needs and caters to them, showing that the brand cares about more than just a sale.
Lowe's – Fix in Six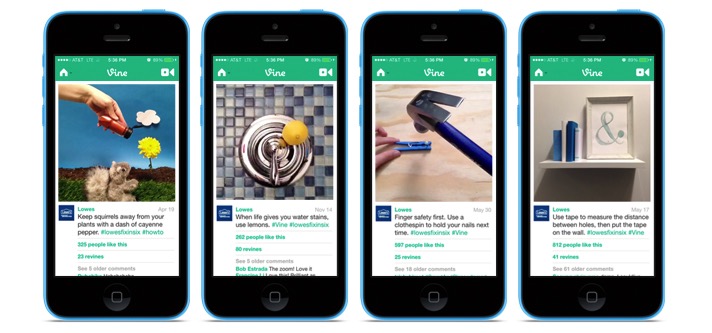 Lowe's Fix in Six vine series is frequently cited as one of the leaders in this type of visual advertising. They launched the Fix in Six campaign on Vine, filming and sharing over 50 six-second how-to films packed with useful tips. Lowe's knew exactly what their customers needed – quick tutorials so they could accomplish their home improvement goals – and delivered the right content. Using the vine platform meant these videos were succinct and easily shareable across social media.
Unilever – All Things Hair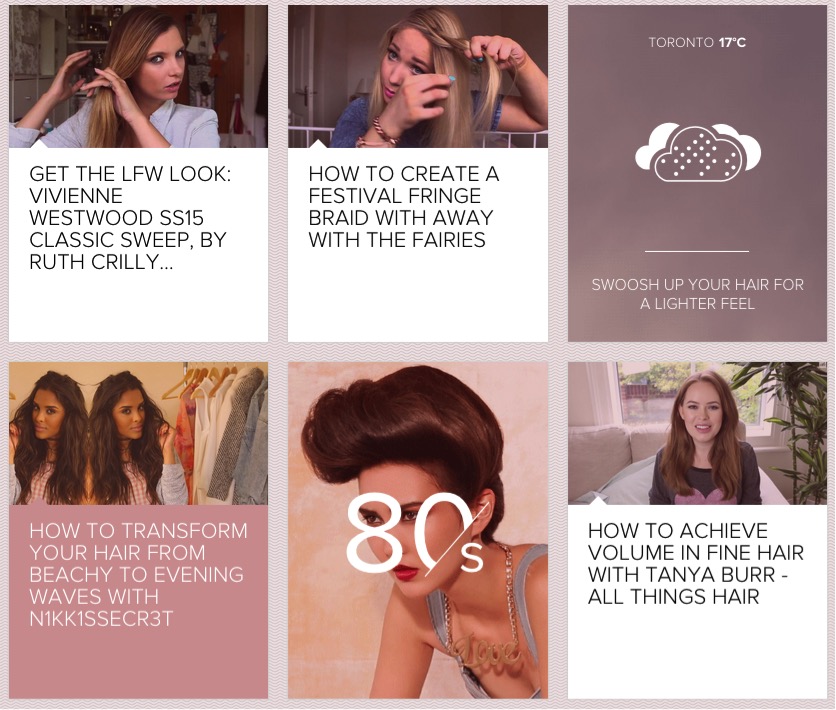 In a similar vein, Unilever launched All Things Hair, a YouTube channel "where women could get relevant answers to their hair-care queries through high-quality video content." They contacted successful YouTube beauty bloggers to contribute content, create video tutorials, share styling tips, and provide hair care advice and inspiration. The channels quickly became the most subscribed-to hair channels in the UK and Canada, and videos received over 1 million views.
Kind Exchange – Instagram Shopping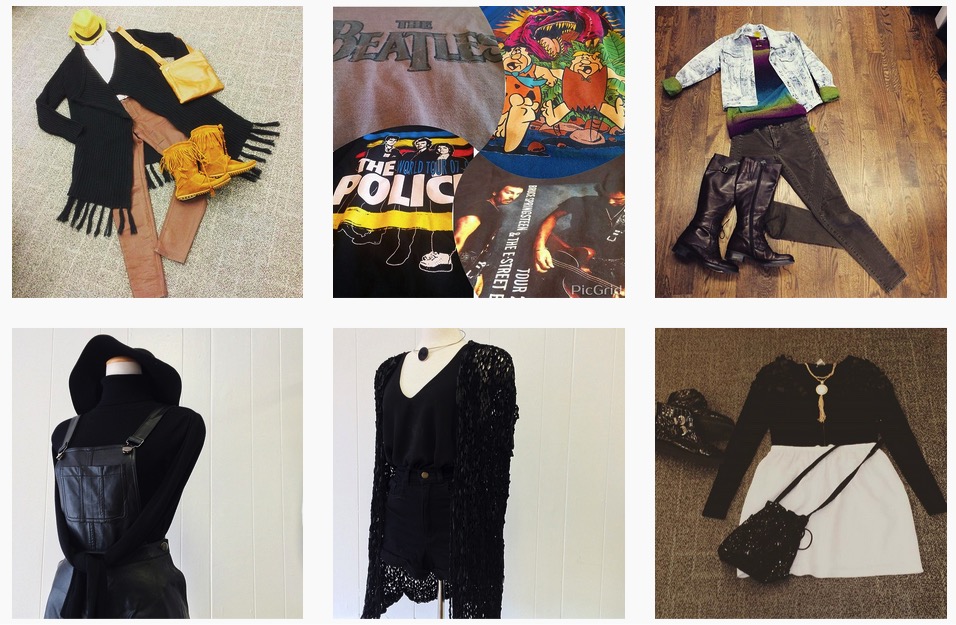 Toronto's Kind Exchange is a used clothing store that engages with their customer base through Instagram. The shop posts pictures of new items on their Instagram accompanied by a store location and phone number in the description. Users can call in to the store and reserve items they see and like on their Instagram feed. This gives the audience incentive to follow on and engage via Instagram, and turns the social media platform into a useful tool for shoppers.
According to Customer Magnetism 90% of information transmitted to the brain is visual and publishers who utilize infographics grow in traffic an average of 12% more than those who do not. Visual storytelling doesn't have to be complicated – it can be as elaborate as Red Bull's extreme sports videos or as simple as Muratyan's minimalistic images.