Think Like A Thought Leader: 6 Content Marketing Tips From Mazda's Kevin O'Rourke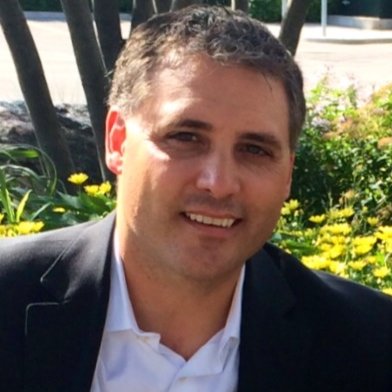 Thought leaders are the go-getters, the forward-thinkers, and trusted sources of information that bring innovative ideas to the table and turn it into a reality. This week we're bringing you some nuggets of wisdom from industry thought leader Kevin O'Rourke who has been in the content marketing trenches, figuring out what works and what doesn't as we move into a new media landscape.
In his own words, Kevin O'Rourke's strength is "creating curiosity." He's spent his career building and implementing award-winning digital and social media campaigns with his pragmatic approach to marketing and ability to use technology to turn brands into conversation pieces. His resume includes driving the fastest growing Facebook page in Canada and he has served as a speaker and panelist at a number of annual conferences including ClickZ. O'Rourke is now the National Manager of Parts and Service Marketing at Mazda Canada Inc.
O'Rourke spoke to us about why data is so integral to good content marketing, shared the wisdom of Avinash Kaushik, and introduced us to the term 'bidirectional' engagement. Below we've compiled O'Rourke's responses into some actionable tips:
1. Treat consumers like active participants in your brand.
Why is content marketing important? Is it just a fad?

"The fact is, content marketing was always there," begins O'Rourke, "so it's not a fad. Brands didn't see the value in being transparent, accessible, and as the publishers of their own content until very recently," explains O'Rourke.
In the past "we only marketed content internally to our staff in the form of training or product knowledge seminars with date embargoes and 'confidential' written on the bottom of the slide deck."
However, "brands have gradually recognized the importance and effect that a share has on us as consumers," explains O'Rourke. The audience craves this type of interaction and wants to be treated like an active participant in the brand.
Content marketing is also important because there is a shift taking place between marketers and consumers. Marketers are realizing that a "purchasing funnel" doesn't customize for the myriad moments that really matter or the content that has the greatest effect on the decision-making process. "Content marketing provides a native and digestible way to guide and influence our needs and build trust," says O'Rourke.
Therefore, content marketing isn't a fad, but the cornerstone of a forward-thinking marketing strategy.
2. Embrace the See-Think-Do framework.

What are your strategies for creating a content campaign?

There are a number of strategies for creating quality content but simply put, "content development starts with a framework."
O'Rourke calls on the wisdom of Avinash Kaushik, who argues that "the foundation to any company's success is to ensure that there is an attractive product/content for audiences to engage with in each of the three stages: See – Think – Do."
This framework taps into the patterns that continually appear in our search for content, consumption of media, and decision-making process says O'Rourke. The people who visit a site fall into three predictable streams:
See – The people looking to know everything about a particular category of information.
Think – "People who have an answer but are looking to refine their choices.
Do – People who already trust your site's content and have made or are about to make a purchasing decision.
According to Kaushik, building this framework should come before a company or brand even starts to think about marketing, sales, and advertising. O'Rourke insists that brands need to consider Kaushik's See-Think-Do framework and target each stream with different content delivered at various times to target consumers at every stage in the buyer's' journey.
3. Overcome marketing challenges with curiosity, agility, and data.
What are the biggest challenges facing marketers today?
"The three biggest challenges facing marketers today are about data, people, and a brand's willingness to rupture stereotypes."
One of the biggest challenges for marketers, according to O'Rourke, is making sense of the overwhelming amount of data. "Companies need to make sense of all the data available, including transactional and location data, to create personalized, relevant, and contextual customer experiences," explains O'Rourke.
Another challenge faced by marketers is the evolution of customer behaviour. The customer journey has come a long way and is slightly more complicated, says O'Rourke. To keep up with the "always on" media landscape and consumers' immunity to ads, companies need to create marketing teams that are willing to embrace curiosity, accelerate experience design, and data analytics. This might mean completely re-thinking the organization of their marketing teams.
4. Stop broadcasting and start conversing.
Is traditional advertising dead?

"I think the word 'traditional' in advertising may be dead, as is words like 'social' and 'digital' to describe factions of advertising." For O'Rourke advertising at its core never changes and is more alive today than it's ever been. However, today consumers want (and expect) to engage and be heard in a two-way dialogue that flows bidirectionally.
"Traditional advertising doesn't permit a two-way relationship because it's based on the premise of broadcast," explains O'Rourke. "This means that the advertiser can only make an impression or get attention in print, radio, television, and even some forms of digital, by talking to (or at) the consumer." For O'Rourke, marketers need to change the vocabulary they're using – broadcast no longer means television, and 'television' is quickly shifting to become 'screen.'
"Now consumers and advertisers can engage and share in an interesting interactive conversation that makes bidirectionality possible. In this way, social is digital word-of-mouth at scale, and this word-of-mouth at scale is the new broadcast."
The key takeaway here, however, is that brands must first see themselves as publishers in order to succeed with this strategy. If brands think of themselves as publishers instead of advertisers, they can create content optimized for conversation, not content optimized for broadcast.
5. Test it, test it again, and then learn.
What strategies do you use to understand and engage your audience?

Engaging the audience is simply "finding ways to produce unobtrusive native advertising, which seamlessly follows to the form and function of the user experience it's placed in," observes O'Rourke. The attention span of consumers is shortening and the 30-second spot is dying because consumers are more interested in the trailers, the preamble, or nuggets of content that lead them to see, think, or do, explains O'Rourke.
Custom video now plays a huge role in engaging the audience, and marketers have to be well versed in testing, customer transactional behaviours, and insights that drive creativity. O'Rourke also comments on the shift to mobile and notes that marketers are beginning to look towards creative and agency partners to quickly develop smart, relevant content for this platform.
O'Rourke prefers to use platforms that allow him to make quick adjustments so that when he maps environmental data, transactional data, and predictive analytics he can learn from it and quickly adjust to better engage the audience. "We test it, test it again, and then learn," explains O'Rourke.
6. Get ready to produce marketing campaigns in constant beta.

What is the next big trend in content marketing?

O'Rourke sees some trends appearing on the content marketing horizon:
– Firstly, he predicts that "content marketing will be way more targeted and personal with a growing consideration for privacy conservatism."
– Agencies should start amping up their video production services for visual storytelling and preparing their editorial curators to meet this demand from brands.
– Topics relating to answering questions and semantic searches will rule. The content needs to be there to answer consumers' queries.
– Consumers will consume on their own schedule, not yours.
– The mobile boom will force brands and agencies to become much better at delivering content in that medium. They will be forced to become better at using native platforms and producing visual and contextual content virtually and on-demand.
For O'Rourke the future of content marketing will be even more fast-paced. Marketers will be required to produce 1000s of pieces of content at a pace that will not allow for big productions. "We will produce marketing campaigns in constant beta."