Email Marketing is Getting Visual — Are You Ready to Play by the New Rules?
Humans are visual creatures. Between 80% and 90% of the information received by the brain comes through the eyes, and the rate at which it processes images – an estimated 36,000 a minute! – is truly mind boggling. Learning and communicating with visuals is in our nature and marketers know this. In a survey of major trends in the content marketing industry conducted by content curation platform Trapit, 82% of respondents said they believe that content is more likely to be consumed if it's visual. If Google's field trial of changes to its email interface is any indication, visuals will play an ever bigger role in email marketing, as well. The new presentation view is practically tailor-made for getting pictures rather than text in front of reader eyeballs, thanks to a simple grid layout and the ability for senders to choose which image will display prominently in their email.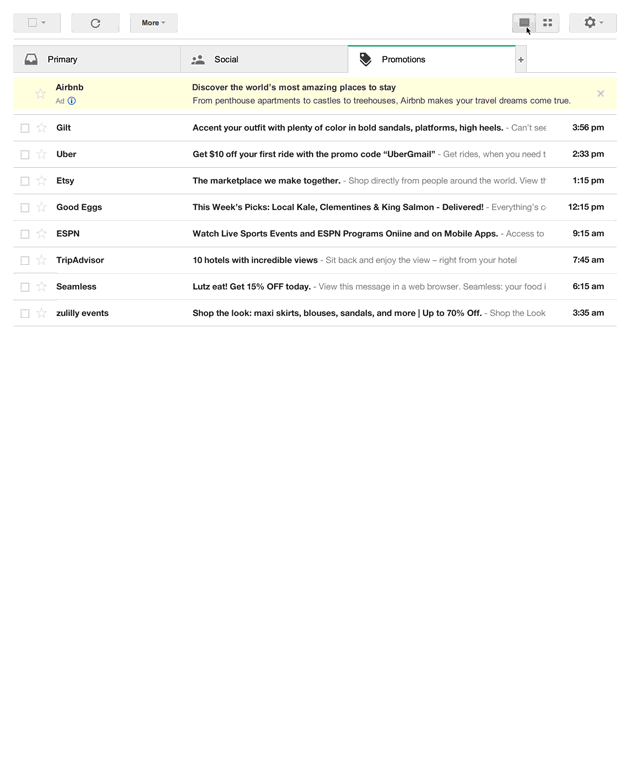 Google's changes aren't available to all users yet, but you should get a head start by adding visual content to your next email campaign. Drop in a portion of an infographic, a clever image or a simple chart that supports your message, and see what happens. Florida-based digital imaging company Accusoft relies on visual content to highlight important messages in its email-based advertising and promotional campaigns. "[We use] product logos, buttons, social media icons, header graphics and visual elements that complement the message," says Tessa Magee, the company's director of marketing. Magee cautions against using too many images at once, however. "The simpler the email, the more successful it is," she says. "We try to limit the graphics we use so it's visually pleasing but not overwhelming, and also make sure it doesn't take away from the main call to action." Here are five rules of visual content marketing to live by:
Optimize photos and videos for viewing on mobile devices or eliminate larger visuals altogether. Realizing that readers are unlikely to tolerate large messages that eat up significant portions of their data plans, Accusoft uses links to direct people to videos and infographics housed on a server.

Send a test email to your internal team to check for strange layouts, broken images, or other unwanted surprises.

If you do embed videos in your email, don't set them to autoplay. No one likes that.

Don't use a background image underneath your text, unless the whole layout is produced by an experienced designer. With an overwhelming background, your message may become hard or even impossible to read.

Little changes can have a big impact. "We do a lot of A/B testing with our buttons in particular," says Magee. "Just changing the button text from 'Download' to 'Get a Trial' can make a big difference in the clicks we receive depending on the audience." It's important to keep a variety of visuals in your arsenal to set the right tone for the message, so don't be afraid to tinker around a little bit to find the sweet spot of visual appeal and maximum impact.
That said, Magee points out to one Golden Rule of Marketing that never goes out of style: "Always include a text link for your main call to action, as well as a graphic. We find that even though a lot of people click on the graphical elements (like buttons) there are always a good number that will still click on a 'Learn More' text link." Want to learn more about creating visuals that drive engagement? Download our white paper, Visuals That Stick, with actionable advice on impactful design from the Visually creative team. [optinlocker]Thank you for your interest in our Visuals That Stick white paper! You can download it here.[/optinlocker] Lisa Hoover McGreevy is a seasoned professional writer specializing in corporate messaging, a data journalist on the Visually Marketplace and regular contributor to the Visually blog.