WordPress ecommerce: when to use it, best plugins, and tips to get started
Selling products online is a viable means to earn revenue in several different markets. All that you need is a competent platform that allows you to publish your items and make them available for potential customers.
Such platforms usually do all the heavy lifting of configuring and maintaining your online store so that you can focus on your sales strategies. Among these platforms is one that is most commonly associated with blog publishing: WordPress!
Yes, you can create a WordPress ecommerce website! After all, the biggest advantage of working with WordPress on your website is being able to extend your features with the right plugins.
Those are able to add new features that completely change what you can offer to your visitors. And, yes, one of these features is an online store.
You do not need deep programming knowledge to work with a WordPress ecommerce. By having the right strategy and a well-built site, you can count on the best plugins to turn your WordPress website into an online store.
Here is everything you will learn in this article. Check it out:
Are you ready? Then, read on!
What are the differentials of WordPress for ecommerce?
When creating your own ecommerce, one of the first choices you need to make is related to the platform your online store will use. There are multiple options, such as Shopify, WooCommerce, Squarespace, and others.
However, you might be surprised to learn that WordPress, the famous Content Management System (CMS) mostly associated with blog publishing, is also a great option for your ecommerce. As it is a platform capable of working with whatever you want your site to be, that also applies to online sales.
This choice has everything to do with what you expect out of your store. By going with a specific ecommerce platform, you are locked to that environment. In contrast, WordPress has versatility as its strongest trait and allows a truly customizable approach on your part.
WordPress is also powered by templates, or themes, which can radically change what your website looks like based on your preference. It is the right choice for those who want a completely personalized online store with all the benefits that its huge library of plugins provides.
In summary, here are the main differentials of WordPress for ecommerce you should consider:
it is offered as-is, which means you can install it yourself or count on a hosting service that does this automatically;
it is primarily a publishing platform focused on content, so you need to install plugins for extra functionality;
it has a large library of plugins to extend your features beyond a simple online store, among which are SEO-focused configurations, multiple language support, automatic backup solutions, and others;
it also has an equally large library of custom templates to change the look and feel of your website, and you can commission your own through a specialist.
When to use WordPress for ecommerce?
Considering the differentials of WordPress for ecommerce, you should consider it as a viable choice in case you see yourself interested in its particular features. While it might seem daunting for some, this option will also be the one that offers you the most freedom and customization for your online store.
Most ecommerce platforms offer the same deal: for a monthly fee, you have access to a system that takes care of your online store's back-end. However, in most cases, this means working with a rigid and not very personalized environment. On the other hand, you usually can count on good tech support from these companies.
WordPress is flexible and open. In addition, in case you already have a WordPress site, most ecommerce platforms actually offer their own plugins to give you access to their features within your site. This means no major changes in the way you and your staff work.
Are you still unsure? Below, you can find the most important scenarios in which you should use WordPress for ecommerce:
if you have a branded personalized template that fits your needs and works only on WordPress;
if you already use WordPress for your website and are familiar with its features and configurations;
if you wish to save on resources by working with a free platform instead of a paid one;
if you have quality tech support on your hosting service to help you with any WordPress-related queries;
if you do not need many of the features that paid ecommerce platforms offer while knowing you can build your own combo with the right plugins.
What are the 6 best plugins for ecommerce?
Obtaining ecommerce functionality for your WordPress site is essential to turn it into an online store. To do that, you must download and install the right WordPress plugins. There are multiple options to choose from, so the task might be intimidating. However, we are here to help with that.
Below, you can check out the 6 best WordPress ecommerce plugins you should consider using. Enjoy!
1. WooCommerce
WooCommerce is one of the most famous WordPress plugins for ecommerce. While it is an online store platform you can use externally, you can also add it to your WordPress site as a plugin.
For starters, WooCommerce is completely free. Its main selling point is simplicity since it allows people with vastly different knowledge levels to sell products on their websites running WordPress.
This is done through an easy-to-use interface and a modular configuration scheme where you add only what you need.
With it, you can also easily add multiple payment options to your site, such as credit and debit cards, digital wallets, and others. WooCommerce handles all the back-end so that you do not have to worry about programming and configuring everything.
WooCommerce is also able to integrate with external services such as social networks, Google Ads, HubSpot, and others.
2. BigCommerce
BigCommerce is an external ecommerce platform with a plugin to bring its features to WordPress sites.
It promises scalability and does most of the heavy lifting itself so your website's performance does not take a hit in speed and uptime. BigCommerce has strong global support in terms of payments, as it works with over 250 payment methods worldwide.
Through its API calling back-end, BigCommerce can keep your inventory up-to-date by syncing with ERPs, PIMs, and other management systems you might have integrated with WordPress. Lastly, it works well with most WordPress themes.
Working with BigCommerce on your WordPress site will set you back $29.95 per month through its subscription.
3. Shopify
Shopify is another option people think of when choosing an ecommerce platform but it is also available as a WordPress plugin. With it, you can leave the job of managing an online store to the platform and focus on what really matters: your sales strategies.
Unlike other ecommerce plugin choices, Shopify works externally from WordPress. This means that it starts working off its servers when your user clicks on the "Buy" button. That way, all back-end features such as payment processing and cart experience are handled by Shopify.
Just like WordPress itself, Shopify's features can be extended through add-ons. You can look through the Shopify apps to add functionalities you need in your online store.
Shopify has a 14-day free trial for you to try out its features. After that, you have to sign up for the paid plans that start at $29 per month.
4. Ecwid Ecommerce Shopping Cart
Ecwid Ecommerce Shopping Cart is different from the others since it is not only a WordPress ecommerce plugin, as it can work with other CMS platforms such as Wix, Weebly, and even social network sites like Facebook and Instagram.
Because of this, working with Ecwid on your WordPress site is a great first step into having the ability to sell simultaneously on multiple channels. This is a valuable trend in ecommerce that offers a lot of convenience to the buyer.
As with most WordPress ecommerce plugins, Ecwid has an easy-to-configure interface and allows a quick way to organize your products and categories. It can also work well with most WordPress templates.
Ecwid has a free version but it can be upgraded for $15 per month for extra functionalities.
5. Ultimate WordPress Auction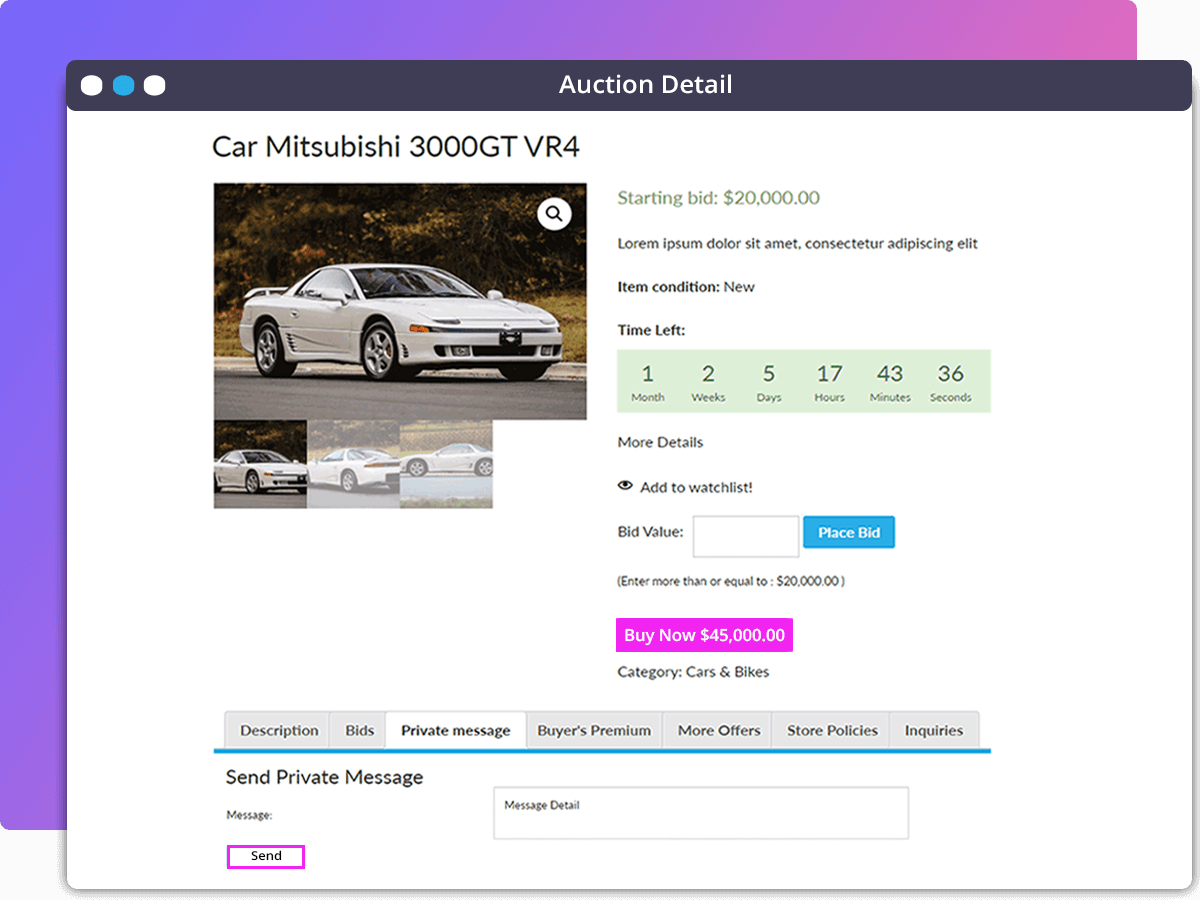 Not only can you create your own WordPress ecommerce but you can also make it into an auction site. Just install a plugin such as Ultimate WordPress Auction.
With Ultimate WordPress Auction, you can display products and allow users to bid on them. Whenever there is an update to these bids, the people involved receive notifications. Everything is powered by Ajax, so it is fast and does not require too many reloads.
It supports most payment options available, such as PayPal. You can also set a reserve price for your product and bid incremental values. A countdown timer can also be added to the interface.
Ultimate WordPress Auction has a free plan and can be upgraded to its paid tiers for extra features.
6. Easy Digital Downloads
What if you want to sell digital products instead of physical ones? Then, you might want to choose a WordPress ecommerce plugin such as Easy Digital Downloads.
From e-books to other kinds of digital goods, you can create product pages and have them behave like a proper ecommerce process. The user is able to add purchases to a cart and even save its contents for later.
Purchasing can be done either through registration or guest checkout, which offers a lot of convenience for users. Easy Digital Downloads also supports discount codes, data reporting, and individual records for customers.
How to get started with WordPress?
Are you interested in working with WordPress ecommerce? To do that, first, you need to get started with the platform itself.
WordPress is a free CMS that can be downloaded through the official website. You still need to hire a hosting service, which is where you will install the files you obtained. Luckily, there are also those that automate this job and take care of this task for you in the form of WordPress hosting.
The first time you open your WordPress admin panel might be overwhelming but you must consider what you wish to achieve. Focusing on WordPress ecommerce means using one of the plugins recommended in this article to begin.
This can be done through the Plugins section. Just search for the name of the plugin you want to install — for example, "WooCommerce" — and click Install. After that, just select Activate to make it work.
Each WordPress ecommerce plugin works differently, so just follow the onscreen instructions or request help directly from their support.
What are the best practices in WordPress ecommerce?
Now that you know how to work with a WordPress ecommerce, it is time to think of best practices to enhance your chances of success. After all, competition is fierce and you need to get everything right in order to be successful.
Below are the best practices for working with WordPress ecommerce.
Facilitate registration and purchasing
This might sound obvious but it needs to be said: do not make using your WordPress ecommerce too difficult. People want results quickly and easily, so make sure that user registration and the purchasing process are exactly that.
Some WordPress ecommerce plugins even allow products to be bought without the need for registration. By offering these conveniences, you might increase your odds of success.
Create SEO-friendly content
Your product pages might appear in good positions on Google results pages. The way to increase your chances of visibility is to optimize your content. Most people think of doing this for articles on a blog but it also applies to product pages.
In fact, you can use a plugin such as Yoast SEO to automate most of this work. It will be able to optimize your product pages based on the right keywords and analyze the rest of your store to look for issues that require fixes.
Keep your structure updated
WordPress and your plugins will get periodic updates that need to be installed. Those usually fix bugs and patch vulnerabilities that might damage your buyer's WordPress security. Leaving those pending might make your store susceptible to attacks, which is never good.
You can check whether you have updates by glancing over at the left sidebar. You will see a notification number next to Plugins and an Updates option under Dashboard. Do not ignore them.
Be transparent
Buying things from an online store requires a lot of trust. WordPress ecommerce plugins allow you to deal with the technical side but you still need to make the right decisions to appear trustworthy to potential customers.
To do that, have your contact information displayed in a clear way. In addition, give great detail on how your policies work, such as product returns and what is done in case of issues.
As you can see, WordPress ecommerce is a reality that can provide a lot of value to your sales goals. Follow the tips in this article and start making sales. This is just one example of how WordPress can be adapted to different types of websites by extending the use of its features to fit your exact needs. Would you like to learn more about this?
Then, download our free guide on WordPress for corporate blogs and find out how to use this platform to reach your goals.